As a creative marketing agency, it's important to lead our clients and community by example. That's why we've created a blog series that focuses on the importance of AODA website compliance for companies in Ontario. With this series, our goal is to help Ontario businesses identify their AODA readiness and become fully AODA compliant with their website and online content.
If you haven't heard of AODA or the Accessibility for Ontarians with Disabilities Act, we'll walk you through the backstory and explain how it impacts your business and your website as of January 1, 2021. 
What is the AODA? 
The Accessibility for Ontarians with Disabilities Act (AODA) was first established by the Ontario government in 2005 to address the lack of accessibility in Ontario. The act was implemented to create standards across the province to make goods, services, buildings/premises, facilities and employment, accessible to anyone. 
What AODA Standards Businesses Must Follow? 
In the AODA, the Ontario government highlights Ontario Regulation 191/11  or the Integrated Accessibility Standards Regulation (IASR). The standards in this regulation describe how to make five important areas of daily living accessible. The five standards outlined within Ontario Regulation 191/11 Integrated Accessibility Standards Regulation are: 
Information and communications standards
Employment standards
Transportation standards
Design of public spaces standards
Customer service standards 
The good news is, most Ontario businesses and employers are following AODA standards that are obvious and visible—like having a wheelchair ramp that goes up to a public building or allowing guide dogs in grocery stores to help people navigate.  
There is, however, a noticeable gap in compliance with Information and Communications Standards. 
What Are Information and Communications Standards? 
Information and Communications Standards focus on how communications happen between two or more people, like with training resources on a website or accessible formats of information, like audio guides at a museum. 
But a huge focus in IC Standards is having an Accessible Website and Web Content—and here's where most Ontario businesses don't comply!
Under the IASR regulation and IC standards, Ontario requires that websites made after 2012 (or those that have been updated since 2012) meet the World Wide Web Consortium Web Content Accessibility Guidelines — or in simple terms, (WCAG) 2.0—at Level AA.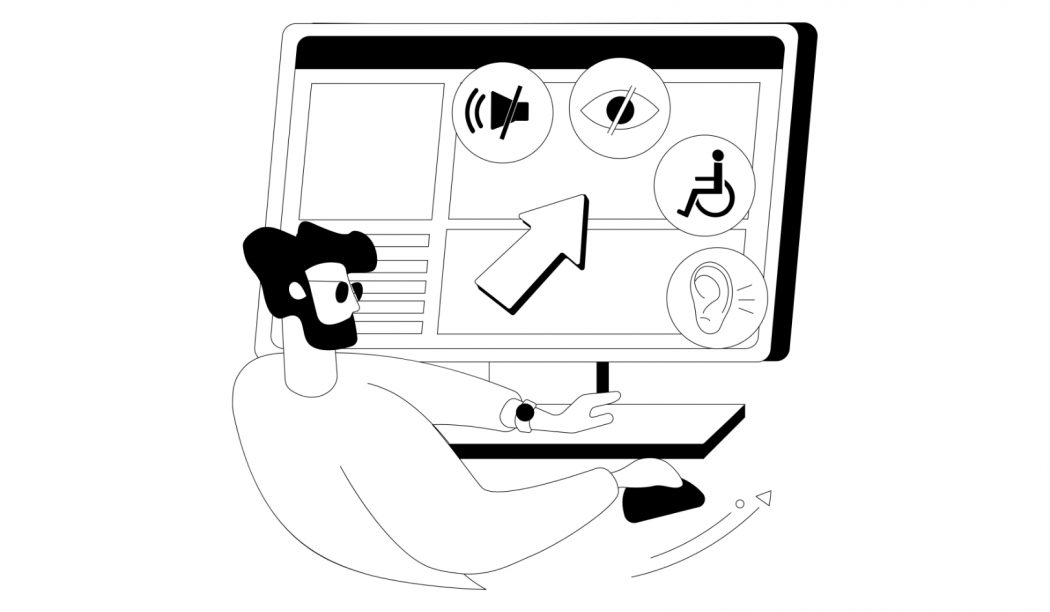 What is WCAG 2.0 Level AA?
WCAG 2.0 Level AA  is an outlined set of rules that all website designs, development and content should follow. The rules are based on four accessibility principles. They are:  
The website must be perceivable
The information and user interface (UI) must be presented to viewers in ways they can perceive.  
The website must be operable
The user should be able to operate the interface. 
The website must be understandable
The user has to understand the information and also understand the operation of the website interface. 
And the website must be robust
The website must be accessible with technology as it advances and user agents evolve. 
While the list of rules under each principle is quite lengthy and can be challenging to understand, they're important to implement for your business and website. 
How WCAG 2.0 and AODA Website Standards Affect Your Business 
As per regulations, websites for companies with over 50 employees, those that are publically traded, or those that are public service-based, must be in compliance with WCAG 2.0 Level AA as of January 1, 2021. 
What does that mean for your business and your website? 
As it stands, most websites are NOT designed to meet WCAG 2.0 Level AA compliance. This means that a majority of Ontario companies will be scrambling to meet the 2021 IASR standards of Information and Communication by the AODA. 
What Happens If My Business Doesn't Comply? (Hint: Monetary Penalties!) 
You may be thinking to yourself, "what happens if my business doesn't comply to AODA standards?" The consequence of ignoring AODA Regulations and IASR standards can lead to increased costs for your business. 
In the simplest terms, Ontario Regulation 191/11 section 83 states that corporations who do not meet ISAR standards on their websites and web content are to pay a daily penalty of $100,000, or in the case of individuals and unincorporated organizations, $50,000 per day. 
If the daily penalties aren't enough to make you think about making your website AODA compliant, then take a look at our next blog post about the Importance of Accessible Website and Web Content.